ReVox C270
SERIES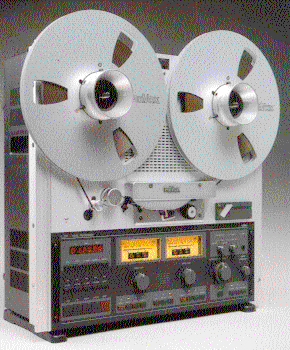 ---
Nice photos of a C270
from
Naomi Stein (USA)
---
ReVox C270 series (C270, C274, C278)
Professional interpretation of a whole line
For the professional user, who superior clay/tone quality wants to connect with high value in use, variety of photograph formats in a Design and technology conditions is offered with the C-series, as it is typical for STUDER REVOX. The 2-Kanal 1/4 " machine C270 presents itself with all characteristics of a professional volume machine: The standard the professionals wish themselves.
STANDARD COMPREHENSIVE PROFESSIONAL ONES OF DRIVE ASSEMBLY CHARACTERISTICS
The 2-Kanalmaschine has all three volume speeds: 9.5/19 and 38cm/s, by those two are freely selectable. Constant tape strain at both winding engines, pilot actuated Einhand Cueing, inserted speed control (- 33%… + 50%), Calming role in the Kopfträger and a genuine Locator with zero, ADDRESS and search function for precise starting of a certain tape location; these are only some advantages of the C270 tape machine
STANDARD PROFESSIONAL AUDIO ELECTRONICS.
Dolby HX ProÒ and one of STUDER REVOX developed phasecompensated audio electronics, smooth and break-free in and door, EQ-maps plug-in for change of speed and light service, in addition outstanding audio data coin/shape the C270 pro concept and are standard characteristics of the machine.
STANDARD DURABLE QUALITY, SIMPLE HANDLING.
The C270 is built with the care, which of Studer Revox is characteristic, in addition, characteristically for service and maintenance. A long life long. One thought modular audio electronics out - also with rack mounting from the front accessible - an aluminum front plate, Kopfträger and chassis from aluminum injection moulding, prove, which is just as developed this highly developed series of "pro by molders", like all other volume machines of Studer Revox.
Equipment and characteristics for professional users.
Drive assembly functions
Constant tape strain on both winding engines. A volume movement sensor secures the full servo control in the editing and switchyard operation as well as in the Play mode. This guarantees a highly precise band control, independently of the Spulendurchmesser The hallkommutierte DC engine of the Capstanantriebes provides for fast acceleration. The Capstanmotor turns only, if it is needed. A typical run-up period from the conditions up to the full speed amounts to 1/10 second Real time counter (in hours, minutes and seconds) A genuine Locator with zero, ADDRESS and search function permits a precise starting of arbitrary tape locations
From 3 volume speeds, 9, 5/19 and 38 cm/s for 2 - KanalMaschinen are their two freely selectable; each combination is easy in the field to change.
Editing mode with Einhand Cueing under full servo control
Inserted RS232 interface for complete command sentence (drive assembly/audio) Interface for external Capstanmotor control with synchronisation Selectable already winding enterprise Waste-paper basket enterprise Optical tape end sensor Inserted Varispeed with a range from -33%… +50% Connection for Fader start Rack angles and NAB adapters belong to the standard equipment Audio electronics and sound quality Dolby HX ProÒ and one of Studer Revox developed phasecorrected electronics Smooth and break-free in and door Calming role in the Kopfträger Photograph and rendition Entzerrer plug-in for optimal rejection and rapid re-equipment on other speeds Muting Freigabezeit of the audio exit from 50 to 990 MSEC. adjustable 3 LED peak value announcements: + 6, + 9 and + 12 railways (C270) Inserted monitor loudspeaker and Kopfhöreranschluss with free Kanalwahl, Stereo or mono Symmetrical and earthfree entrances and exits Individual channel preselection for photographs. Internal photograph barrier Completely modular audio electronics for the fast change of arbitrary plates All setters are easily accessible, even with rack mounting Professionally in the last detail. The machine of the C-series are with ceramic(s) guidance and calming roles equipped. The heads are from downside directly bolted and optimally shielded with the Kopfträger from Druckgussaluminum. The heads of the C270 consist a development of STUDER REVOX of the extremely resistant to friction REVODUR alloy -, since over 35 years world-wide as manufacturers of best clay/tone heads recognition. The control panel of the C270 machines is away hinged and can in two positions be fixed: lightest entrance to all audio plates to measuring and for maintenance with full efficiency of the machine. All setters are easily accessible, even if the machine is built in the rack. The control panel of the C270 is versatile adaptable and in addition by elegant simplicity. That access to all drive assembly and Locatorfunktionen is guaranteed. All entrances and exits are summarized on the back. This facilitates a providing of the interwirings. Additionally to the necessary XLR sockets DIN connections are available for Fader start, synchronisation, monitor and R-S 232. The computer control of all functions makes R-S built in all machines for 232 possible interface. All minutes information documented fully. Hubs of mechanical and electronic stability for machines from the house STUDER played the microprocessors a special role with the series of C270. Not only the entire drive assembly price increase is controlled and steered by the chips, also the Timing (i.e. the accurate temporal consequence) of similar audio electronics is steered by the software. Thus also the individual audio channels can be addressed by remote maintenance at will apart from the drive assembly functions. The machine of the type ReVox C270 offers professional features such as editing mode with Einhand Cueing, waste-paper basket enterprise, Faderstart, inserted Varispeed (- 33% to + 50%), Dolby HX pro, 3-LED-Spitzenwertanzeigen, symmetrical entrances and exits and much more besides. By the construction and the machine of the series of C270 without question an eye pasture is optically seen! By opening unfold the front plate entire audio electronics for service purposes was comfortably accessible. The continuous assembly with XLR audio connections underlines the professional requirement of the series.
---
Þ
Revox accessories for die C270 - C274 - C278 series
---