Revox A700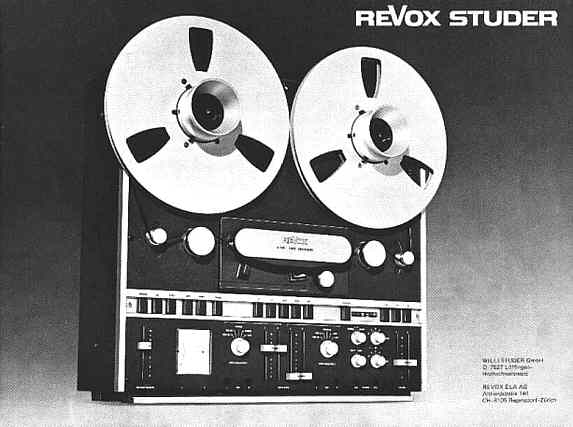 PRELIMINARY DETAILS
REVOX A700 TAPE RECORDER
The Revox A700 stereo tape recorder is a servo controlled, three motor, tree speed (3 3/4, 7 1/2, 15 ips) machine, utilizing quarter inch tape with a 10 1/2 inch maximum reel capacity.
The application of the most advanced techniques of engineering design and development has led to the production of this highly sophisticated tape recorder with uncompromising quality, reliability and performance. Extensive use has been made of integrated circuits in both control logic and audio circuitry.
Close attention has been given to both the ergonomic and cybernetic aspects of its design to provide both ease and simplicity of operation even when subjected to the most demanding applications.
The electronic circuitry comprises of the following semi conductor devices:
19 Integrated Circuits
2 large scale Integrated Circuits
93 Transistors
92 Diodes
7 Full Wave Rectifiers
SPECIAL FEATURES OF THE REVOX A700

ntegral control features.

1.

Tape transport mechanism with three servo controlled A.C. motors.

2.

Quartz clock generating 1.6384 Mega Hertz reference signal for control of capstan motor speed at 3 3/4, 7 1/2 and 15 ips.

3.

Speed sensor ring operating simultaneously over the entire circumference of the capstan motor for detection of total motor motion. Both frequency and phase comparisons made with internal reference clock.

4.

Servo control of spooling motors via two independent tape tension sensors. Constant tape tension maintained in all operating modes (including wind and braking procedures).

5.

Sinewave control of all motors producing minimal wow and flutter.

6.

'Fail Safe' auto stop logic operating in all the modes. Logic control monitors tape via tape motion; tape tension; and photo electric 'end of tape' sensors
Auto stop will activate:
a) at the end of the reel
b) if reel is jammed externally prior to the tape tension exceeding permissible level (to avoid tape damage).
c) if tape breaks due to structural weakness.

7.

Especially developed custom integrated circuits for quartz reference clock, divider circuit, frequency and phase comparitor, motor control with analog multiplier and sinewave output and electronic interlocked operating controls. Unique to Revox.
OPERATING FEATURES

1.

Programmed control logic utilising integrated circuits with 'watch dog' memory system.

2.

Speed control logic illuminates speed selector button to confirm operation at exact synchronous speed

3.

Tape motion sensor produces tape counter read out in minutes and seconds (actual playing time at 7 1/2 ips).

4.

'Repeat' program for instant replay. Regardless of operating mode, when button is pushed tape transport rewinds. Release of button automatically stops transport and engages 'play' mode.

5.

'Automatic' recycle program for continuous replay

6.

Electronic 'Pause' control effective in all modes (including wind). Memory function returns transport to previous operating procedure when pause is released.

7.

Solid state switching of all audio network completely eliminating possibility of clicks on recording. Extensive use of 'low noise' integrated circuits in audio circuits.

8.

Tape speed externally variable:
a) with auxiliary unit (shortly available) for variation of tape speed over

± 7 half tones at any of the three tape speeds. Lamp indicator confirms synchronization 'lock in'.
b) with external variable frequency ocillator, with range from 1 to 10 kHz. It is possible to vary tape speed from 2.5 to 21.5 ips.

9.

Independent inputs available for:

4

Balanced Microphones, selection of Hi/Lo impedance

1

Stereo phono input. Built in RIAA, pre-amplifier for magnetic pick up

1

Stereo radio input

2

Stereo auxiliary inputs

10.

Four individual linear faders for input mixing with one stereo master fader for record volume.

11.

Jewel bearing VU meters with over modulation warning lights. Meter operation is switched in conjunction with mode selector (record or playback monitor).

12.

Stereo echo facility for recording and multiplay for dubbing.

13.

Two individual linear faders for control of output volume and balance. Stepped tone controls (bass and treble).

14.

5 outputs as follows:

Line output A: Fixed stereo

Line output B: Switched stereo, mono, left or right

2 Headphone outputs - via volume and tone controls

1 Power amp. Output - via volume and tone controls

15.

'Plug in' sound head assembly in half or quarter track configuration. Provision for mounting additional head in head block.

16.

Switched power outlet for tuner, amplifier, etc

.
---
TECHNICAL DATA A700

Tape Speeds

15 ips, 7 1/2 ips and 3 3/4 ips.
Tolerance of nominal speed

± 0,1% (with a tape thickness of 1.5 mil - long playing tape).

Tape Slippage

Not exceeding 0.1%

Wow and Flutter
(weighted)

At 15 ips better than

± 0,06%
At 7 1/2 ips better than ± 0,08%
At 3 3/4 ips better than ± 0,1%

Counter

Read-out in minutes and seconds (4 digits).
Real-time indication at 7 1/2 ips.

Reel Dimension

No tension change required with reels from 1.5" up to 10.5" in diameter.

Tape Tension

Electronically regulated during all operating modes (inclusive of braking).

Frequency Response

Overall performance at

15 ips
30 Hz to 22'000 Hz

± 2/-3 dB
50 Hz to 18'000 Hz ± 1.5 dB

7 1/2 ips
30 Hz to 22'000 Hz

± 2/-3 dB
50 Hz to 18'000 Hz ± 1.5 dB

3 3/4 ips
30 Hz to 22'000 Hz

± 2/-3 dB
50 Hz to 18'000 Hz ± 1.5 dB

Peak Level Recording

6 dB over 0 VU for a tape flux of 514 nWb/m

Level indication

VU-meter as per ASA-standard, with optical overload indication:
Overload threshold: +6 dB, 514 nWb/m
Response Time: 10 msec
Delayed Decay: approx. 0.5 sec.

Distortion

Measured via tape at peak level or 0 VU respectively (1000 Hz)
at 15 ips and 7 1/2 ips better than 2% or 0.6 % respectively
at 3 3/4 ips better than 3% or 1% respectively

Signal to Noise Ratio

Weighted as per ASA A, measured via tape
at 15 ips better than 65 dB
at 7 1/2 ips better than 66 dB

at 3 3/4 ips better than 63 dB

Crosstalk

(1000 Hz)
mono better than 60 dB
stereo better than 45 dB

Inputs

Microphone

2 balanced stereo inputs,
Position LOW: 0.15 mV/6 kOhm

Position HIGH: 1.8 mV/6 kOhm

Phono

1 stereo input, equalized as per RIAA
Sensivity: 2.5 mV/50 kOhm

Radio

1 stereo input, Sensivity 3 mV/33 kOhm

Auxiliary

2 stereo inputs, Sensivity 40 mV/100 k Ohm
Overload margin on all inputs 40 dB (1:100)

Outputs

Fixed Level

LINE A:
LINE B:
Radio (DIN):

1.55 V. Ri = 5 kOhm
1.55 V. Ri = 5 kOhm
0.775 V. Ri = 10 kOhm

Adjustable Level
(Volume, Tone)

Headphone:
Power stage:

4.9 V. Ri = 100 Ohm per output
3.1 V. Ri = 100 Ohm
incl. Mains switching for A722 / A724

Tone Control

Bass,

± 8 dB at 80 Hz in 2 dB steps
Treble, ± 8 dB at 8 kHz in 2 dB steps

Semi-Conductor Devices

19 Integrated circuits
2 LSI circuits
93 transistors
92 diodes
7 full-wave rectifiers

Power Requirement

110 to 220 V selectable
50 to 60 Hz
130 W
---
AVAILABILITY in 1973
Orders are now being accepted for all A700 units for expected delivery December 1973.
PRICES in 1973
Prices are subject to change without notice especially on imported items where duty and surcharge costs may fluctuate due to conditions beyond our control
| | | |
| --- | --- | --- |
| | A700 | $ 1,800.00 |
| | A720 | $ 1,495.00 |
| | A722 | $ 495.00 |
Price of all goods are those in effect at the time of delivery.
---
| | |
| --- | --- |
| | A700 Remote Control Unit |
---